An art and housing justice project in Detroit
A Riad is a type of home organized around a courtyard, typical to Morocco. The courtyard is a beautiful place with water, tiles, and foliage where family and neighbours gather. Now, the Ghana ThinkTank and an array of local partners and international advisors have bundled their forces to bring the idea of a Riad to the North End of Detroit.
Detroit's North End neighbourhood is struggling with considerable social and economic challenges. Unemployment is around 23% and an estimated 43% of residents live in poverty. There is a dearth of affordable, high-quality housing.
The Riad that Ghana ThinkTank is developing will be a public space for gatherings, workshops, gardening, performances, and the display of local and international art. Think tanks from Morocco, Indonesia, and Syria provide their knowledge and expertise to the construction of the Riad. The future neighbours of the Riad are involved through skillshares in art, home-renovation, and the setting up of their systems for water filtration and energy collection. Thus, the courtyard is not only a social and artistic space, but also an economic engine for the neighbourhood.
In addition to the Riad, the project will create 8-10 units of affordable, beautiful housing and six business units dedicated to businesses that will benefit the local community. To prevent gentrification and displacement of the residents, the Riad and the surrounding buildings will be incorporated into a land trust. 
With the American Riad, the Ghana ThinkTank takes a new approach to its work. Rather than being part of a short-term arts exhibition, it is a long term commitment of resources and energy. They are asking themselves how opportunities garnered elsewhere (exhibits, performances, etc) can support this work in Detroit.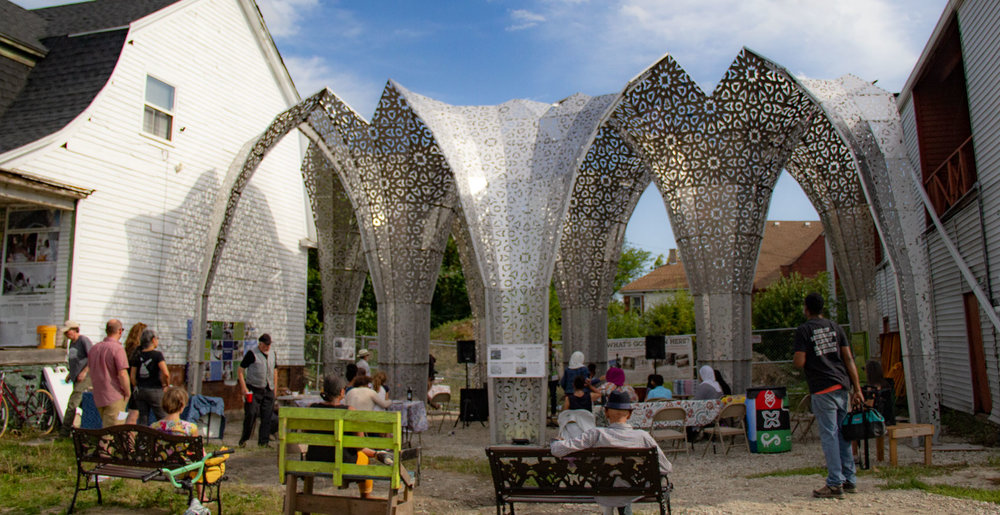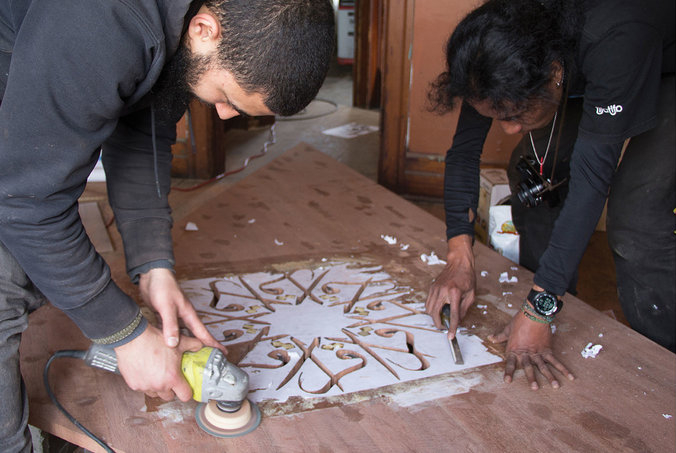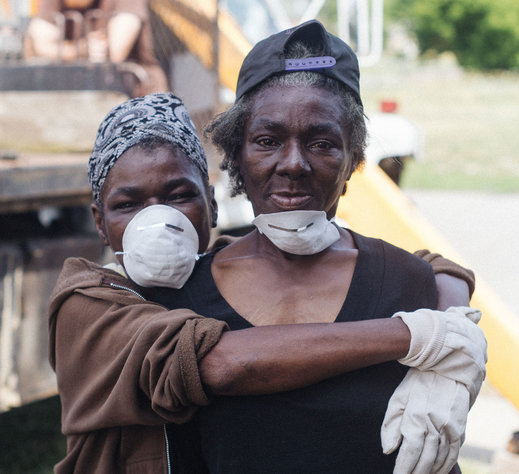 All photos by American Riad
About Ghana ThinkTank
Ghana ThinkTank is an international collective that "develops the first world" by flipping traditional power dynamics, asking the "third world" to intervene into the lives of the people living in the so-called "developed" world.
They collect problems from communities throughout the USA and Europe, and send them to think tanks they created in "developing" communities. The think tanks – which include a group of bike mechanics in Ghana, a rural radio station in El Salvador, Sudanese refugees seeking asylum in Israel, an artist collective in Iran, and a group of incarcerated girls in the Boston penal system, among others – propose solutions, which are then implemented in the "first world".
Ghana ThinkTank's innovative approach to public art reveals blind spots between otherwise disconnected cultures, challenges assumptions about who is "needy," and turns the idea of expertise on its head by asking people in the "third world" to solve problems of people in the "first world." This process helps people overcome their own stereotypes while being exposed to the stereotypes that other cultures have about them.
Ghana ThinkTank was founded in 2006 by Christopher Robbins, John Ewing and Matey Odonkor. Maria Del Carmen Montoya joined in 2009. The project began with think tanks in Ghana, Cuba, and El Salvador, and has since expanded to include Mexico, Iran, Serbia, Indonesia, Sudan and Morocco.
Credits American Riad
The American Riad is a collaboration between Ghana ThinkTank and the Oakland Avenue Artist Coalition, Central Detroit Christian Community Development Corporation (CDC), NEWCO (North End Woodward Central Organization), and Affirming Love Ministries Church, with support from Creative Capital, Knight Foundation, MEDC, Detroit Justice Center, the Center for Engagement at Purchase College, DTE Energy Foundation, NYFA, Black Rock Arts Foundation, and the 200+ individuals who have donated to this project.
For a full overview of the partners see the project page.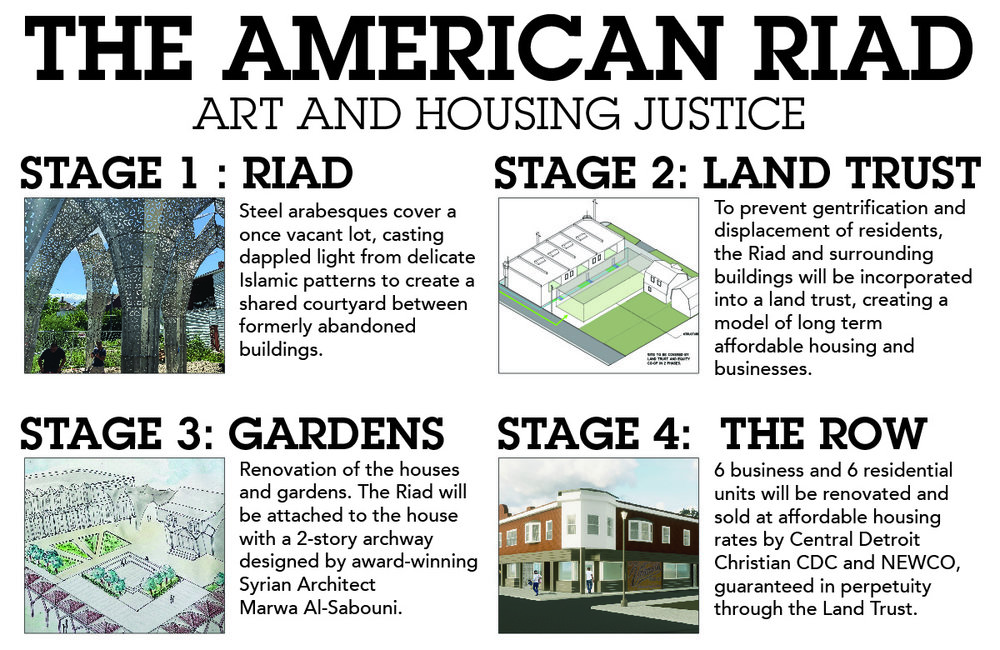 Illustration: Ghana ThinkTank, OAAC, SUNY Purchase College, Marwa Al-Sabouni, NEWCO