Can we still enjoy fashion even though we know its industry is the third most polluting industry existing today? Coming from a background in fashion, I am now looking at fashion in a wider context as part of my master's degree in museum and heritage studies. As a fashion admirer I often struggle with the importance and relevance of clothing in a time where its industry is proven to do horrific harm to our planet. With the emergence of fast fashion brands, like Zara and H&M, clothing has become so accessible that items have changed into disposable products. Trends come and go at such rapid pace that an item seems to lose its value the moment we want to wear it a second time.
Because of this, I often try to ignore the existence of fast fashion brands and focus on fashion that shifts towards art. It becomes exciting for me when a garment tells a story and makes me ask questions. It are exactly these works of art that make me aware and conscious of social issues, such as climate change. Thus, it keeps reminding me that ignorance is not the way forward and that sharing information about (climate) issues, especially through fashion, is a way to inspire and change our behaviors.
So, when does a garment cross the line into becoming a work of art? And when it is defined as art, how can it help continue the conversation about sustainability or other social issues? What can fashion as art do to make us even more aware and take action against all the issues it may raise? I will share two inspirational works that do exactly this and I hope they will inspire you too, as fashion is not only about horror, its innovations and creativity offer hope and admiration. 
The Fabricant and their 'Iridescence' piece
The fashion industry seemed to be the industry that turned a blind eye to technology for a long time. Traditionally, clothing is made by many hands, from picking cotton buds to weaving textiles, cutting patterns, and sewing fabrics. With the rise of cheap labor overseas and fast fashion companies, this traditional production chain seemed the most cheap and efficient to create clothing. However, for quite some years now, innovators in the field have been trying to push digital design, production, and even sewing and knitting machinery. Still, the majority of the industry sees these processes as costly. Not only the technologies itself but also re-educating its employees and restructuring its ways of business.
It are innovative brands like The Fabricant that show the abilities and, arguably, future of digital fashion. Besides pledging for digital tools being key to make the fashion industry more sustainable, this digital fashion house first and foremost tackles the question of the importance of physical clothing. They challenge the current industry systems by offering only non-physical 3D garments to explore personal identity.
In 2019 The Fabricant created the world's first digital-only dress on the blockchain, which sold for $9500. The unique garment called 'Iridescence' is a collectible piece of art that can be traced and traded. Its buyer provided pictures of herself, on which The Fabricant simulated the digital garment. It is a unique way of seeing her in a piece of clothing that does not exist in our physical world. Besides, it shows how the boundaries between the physical and digital world are blurring. This seems to happen at an even more rapid pace during the current Covid-19 pandemic. We are attending events, talks, and meetings through our screens, whereas we used to take the train, car, or even a plane. Thinking of the future, it even seems unlikely that a guest speaker from abroad would fly in if he or she can easily be projected on a screen instead. It is this new reality that makes me think that digital clothing can become more normalized in the future. Especially during these Covid times, I wonder whether we need to buy new clothes to show off on camera, or if instead, we can wear digital garments on screen. It would make the many meetings lots of us are attending quite interesting, don't you think? The 'Iridescence' piece is no doubt a work of art, being unique and innovative in its existence and clear with its message: digi-couture is the most sustainable step towards a brighter future.
The Fabricant offers solutions in the field of sustainable fashion in a way that still feels a bit odd, awkward, and maybe surreal. Still, their website provides you the facts of the impact their innovative way of working has on our planet, and their work showcases the many possibilities. 'Iridescence' blew my mind when I saw it, both aesthetically and mentally. It also raised questions: how is this practical? How can it be affordable in the future? Is it a plausible fashion opportunity for the youngest generation of internet users?  And might we disappear into the digital world for good? No doubt, this piece of art makes conversation about topics that matter. I am inspired and curious about the digi-couture of the future and expect future fashion designers to be as well.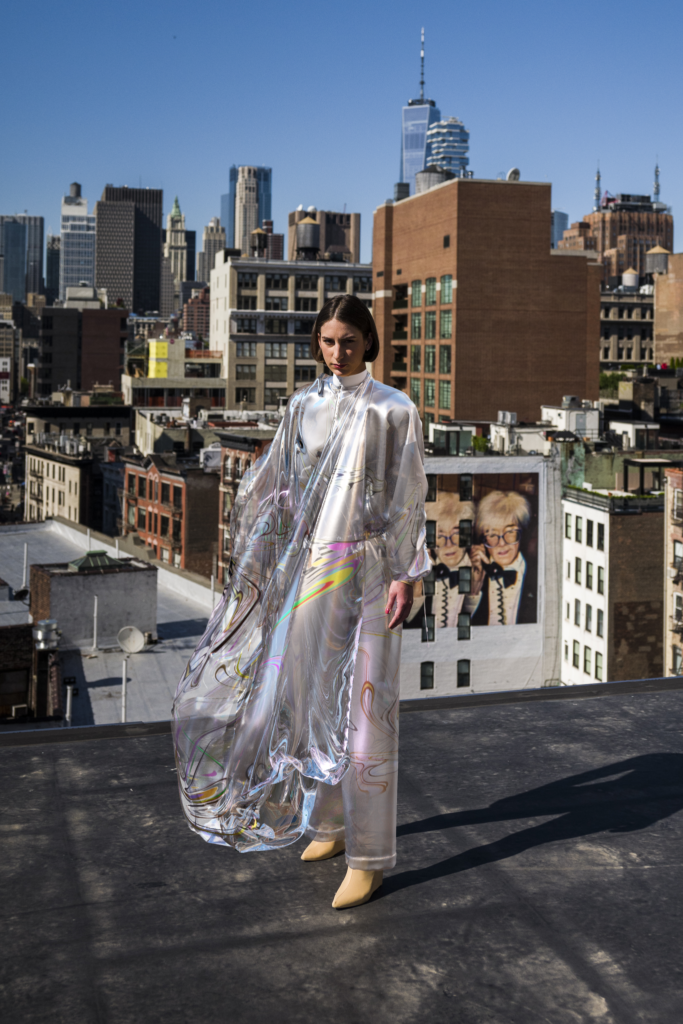 'Iridescence' by The Fabricant, 2019
Craig Green Spring/ Summer 2021 Moncler Genius collection
British fashion designer Craig Green is known for his fashion collections that, in an industry that is moving faster and faster, manages to stand the test of time. While offering commercial pieces that sell, he manages to create catwalk presentations that have lasting impacts on its audiences. Green has found a unique way of merging clothing with sculpting and in this way makes you wonder whether you are looking at a clothing collection or an architectural design. It comes as no surprise that his pieces have been displayed, amongst others, at the Metropolitan Museum of Art. Being represented by such an institution means his work is recognized as a form of art.
I want to highlight his latest work in collaboration with Moncler, an Italian luxury fashion brand mostly known for its activewear, and in particular its skiwear. Craig Green values his collaborations with Moncler, as it gives him a focus to design within a specific framework, working with Moncler's sports heritage and signature materials and techniques. It is here he finds that true innovation is possible. For the Spring/ Summer 2021 collection, Green and Moncler created a collection that is made for being in nature and encourages you to go outdoors. The collection launched in the midst of the current Covid-19 pandemic, which, arguably, already made us more aware of the natural environment surrounding us. In a time where there's a lack of social contact, nature proves to be a continuous presence in which we can disappear whenever we like. However, due to climate change, we see the disruption of our surroundings, and nature's consistency seems to fade. I find Green's SS21 collection particularly inspiring as it makes us aware that nature and culture live side by side. As Green puts it: "the collection comes from a place of functionality and protection, clothing as a tool for us to work in unison with the environment around us". It is works of art like this, that make me realize how important nature is to humankind, and how we should be encouraged to find a balance between man and nature. Clothing is a tool to protect us from nature, from its rain, wind, and sun rays. Clothing as art, however, is a tool to make us aware of the damage we do to this planet. Green's work reflects both sides. Maybe it is exactly that that makes his work real and touching. I praise Green's work because clothing will always be a necessity to protect us, but his innovative approach still makes us consider, think and become aware of our natural environment and its current stress.
Fashion brings social status, gives identity, and protects you physically. Still, fashion is more than that. It raises questions on relevant and important topics, while you can reflect on your own consumer behavior. Fashion is daring, inspiring, and definitely a form of art. At least, that's how I see it. The question now is, how does fashion inspire you?